What is the difference between a Round Neck Jumper (crew neck) and a V-Neck Jumper?
Both are popular jumpers (or sweaters) with our customers and each person has their own preference in neck style.
Both V-Necks and Crew Necks, have their advantages and disadvantages when it comes to certain outfits or indeed even certain situations.
The Crew Neck could be considered the more casual of the two, with the V-Neck being slightly more formal.
Both have a collarless neck but with very different shapes - Crew Neck has a rounded neck and the V-Neck, obviously has a V shaped neckline.

V-Necks allow more visibility of shirt and tie whereas the Crew Neck does not.
Interestingly the word Crew Neck originated from sailing, crew on boats would have worn these type of garments.
The crew neck is designed to sit at the base of the neck and the neckline itself is generally raised, ribbed or sewn on a separate piece of fabric - thus this look offers a more casual style.
The V-Neck can be worn on more formal occasions as it allows the shirt and tie to be visible.
The Crew Neck is really an everyday garment, it's a great wardrobe go-to for comfort and is ideal for layering with jackets, blazers and coats.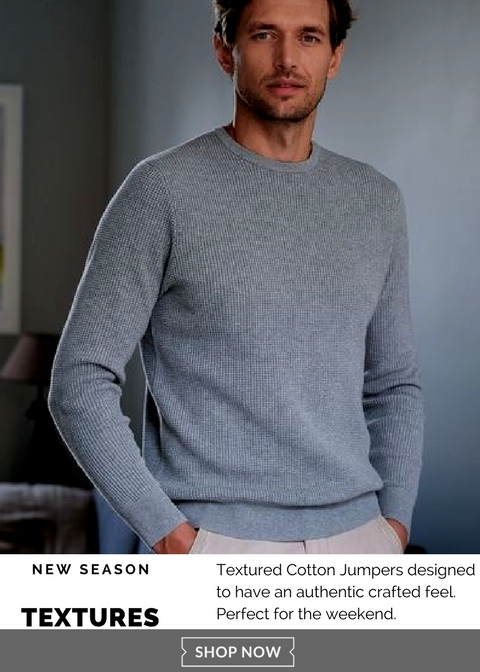 The Crew Neck looks great with a simple white tee-shirt worn underneath, with the neck of the tee just protruding slightly above the neck of the crew neck, or alternatively you can make your Crew Neck pop by adding a patterned or check garment for a contrasting look.

The Crew Neck is an ideal winter jumper, as it keeps close to the neck, keeping the chest warm.
The V-Neck can be worn under a jacket or blazer and allows for a more curated look, as the shirt or garment worn underneath is more visible.
V-Necks also work with the more casual Polo Shirt and also Round Neck or V-Neck T-Shirts too, it is a truly versatile garment, ideal for casual or formal wear.
Whatever your preference, Vedoneire has an extensive range of colours in both Round Neck and V-Neck Jumpers, from fine gauge knits, to textured cotton knits and wool blends.
Then there is also the added choice of the Sleeveless Jumper (or slip on) taking you into more milder weather wear.
Click here for Crew Necks
Click here for V-Necks
Click here for Sleeveless Jumpers
Click here for Half Zip Neck Jumpers